The stigma that "debt is bad" prevents many business owners from taking steps that could substantially help them grow their business. Why take the risk of a loan that may just bury your business in more bills to pay later?

But do business loans actually create debt?
We got a chance to sit down with Francisco De Vivo, the President of FAJ Consulting Services, Inc, to discuss the misconception that many business owners have when it comes to applying for business loans. 
Mr. De Vivo has been involved in economic development with the City of Los Angeles since 1996. At CHARO Community Development Corporation, Mr. De Vivo was responsible for operationalizing the CHARO Entrepreneurial Training Program and the Business Assistance Program in East Los Angeles.  For his advocacy efforts, Mr. De Vivo was named 2000 Financial Services Advocate of the Year by the U.S. Small Business Administration.   
In our discussion, De Vivo drew on over 25 years of experience to explain why business loans generate wealth, not debt.
Consumer Loans vs Business Loans
When it comes to debt, Francisco says, "People are scared of that word. People believe a loan is debt, and debt is trouble, it means you have to pay something back."   When it comes to consumer loans, that is correct.  "A shoe will never pay back a debt," he jokes. 
When you take out a consumer loan, you use the money you borrowed to buy what you want and that's it. You have the car, house, etc and you're left to repay the debt. That money that you borrowed doesn't work for you at all.  
Business loans, on the other hand, should not be associated with "going into debt". As Francisco says, "Business loans generate cash flow, which generates wealth."  
How do Business Loans Create Wealth?
"The name of the game is cash flow generation. The way to grow a business is by generating cash flow," explained De Vivo.  
You may ask how to take out a business loan. Suppose you take out a business line of credit with an 11% annual interest rate. "First, figure out the monthly cost of that loan.  11% divided by 12 is a little less than 1%. Any half decent run business is going to generate between 15% and 18% monthly gross. If you take out a loan at less than 1% and you inject it into a system that generates 15 to 18%, you're creating wealth, NOT debt."  De Vivo, who has worked with thousands of businesses to grow, says it's a no-brainer to leverage someone else's money to increase your own wealth.
"If you use a line correctly, what you're doing is using money for some time, then you put it back.  You're rotating the money.  If you use $100,000 to buy product, and then sell the inventory for $130,000, you'll see a nice return on investment.  When you get paid, then you simply return the money back to the line. It's not debt because you're not paying interest on it, but the money is available for you when you need it."  The payments are dwarfed by the amount of cash flow they generate.
And that's not the only way that loans create wealth.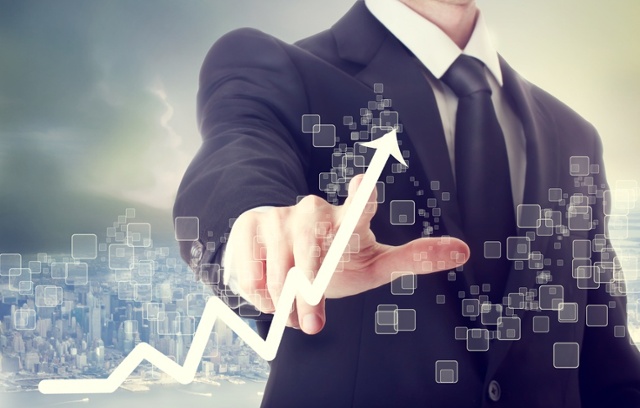 How Loans Save you Money
Something that people don't consider when getting a business loan is that having access to a business line of credit or working capital loan may save them money in operating costs.
One way this works is a prompt payment discount, or a discount you get from suppliers for paying in advance for inventory.
"When you're buying and selling, you're asking your supplier to give you a discount because you're paying right away instead of asking for credit. If you have a $500,000 line, you pay $5,000 which is 1%. Any discounts in prompt payment are usually between 2 and 3%, so you are generating $15,000. By paying in advance, you can leverage the line of credit to make money!"
As you can see, having access to capital opens you up to opportunities for saving money that you would not have without capital. De Vivo even gave us an example of one of his clients who was able to use a line of credit to save money.  
"This morning, I was at a wholesale produce company. They buy produce directly from farmers. They have a $3 million line of credit, so they can give the farmers advances to grow the produce. They pay 49% of what the produce would cost if they did not pay in advance, because they are financing the growth of the produce (due to the advance to the farmer)."  Paying about half of the cost of the produce, but selling it at the normal rates, increased their profit by about 50%.  These types of opportunities are only available to businesses who have funds available;  they don't come to those who don't have liquid capital.
Only in America
As an American business owner, it's important to recognize the opportunity you're being presented with working capital loans. As De Vivo told us, "The USA is the only country in this hemisphere where this works."
The US has the lowest rates, by far, for business loans.  "Peru, the 2nd lowest, is at 32%," De Vivo says of other countries' rates. "At 32% it doesn't work because it's too expensive. Hispanics business owners, a population that I often work with, are not used to thinking of relying on loans for growth because in other countries it's not worth it."  US business owners have incredible opportunities to leverage other people's money for growth.
It should be clear now that taking out a business loan doesn't mean going into debt. The cash flow and benefits of a business loan should be enough to encourage anyone to consider alternative financing. So, don't let a fear of debt hold you back, and start growing your business with capital!
Call Mulligan Funding at 855-326-3564 to discuss your financing options today!
The information shared is intended to be used for informational purposes only and you should independently research and verify.
Note: Prior to January 23, 2020, Mulligan Funding operated solely as a direct lender, originating all of its own loans and Merchant Cash Advance contracts. From that date onwards, the majority of funding offered by Mulligan Funding will be by Loans originated by FinWise Bank, a Utah-chartered Bank, pursuant to a Loan Program conducted jointly by Mulligan Funding and FinWise Bank.